WELCOME TO
FORTE SPIRIT SOLUTIONS
Coaches' Training
Nov 4 in New York!
Adam Forte will go in depth with Tumbling, Stunting, Jumps, and more!
OUR MISSION
Forte Spirit Solutions aims to inspire gyms to be the change in coaches, athletes, and families lives by using Cheerleading as the vehicle towards self awareness, growth, and the ability to influence society in a positive way which ultimately will help the industry and sport thrive.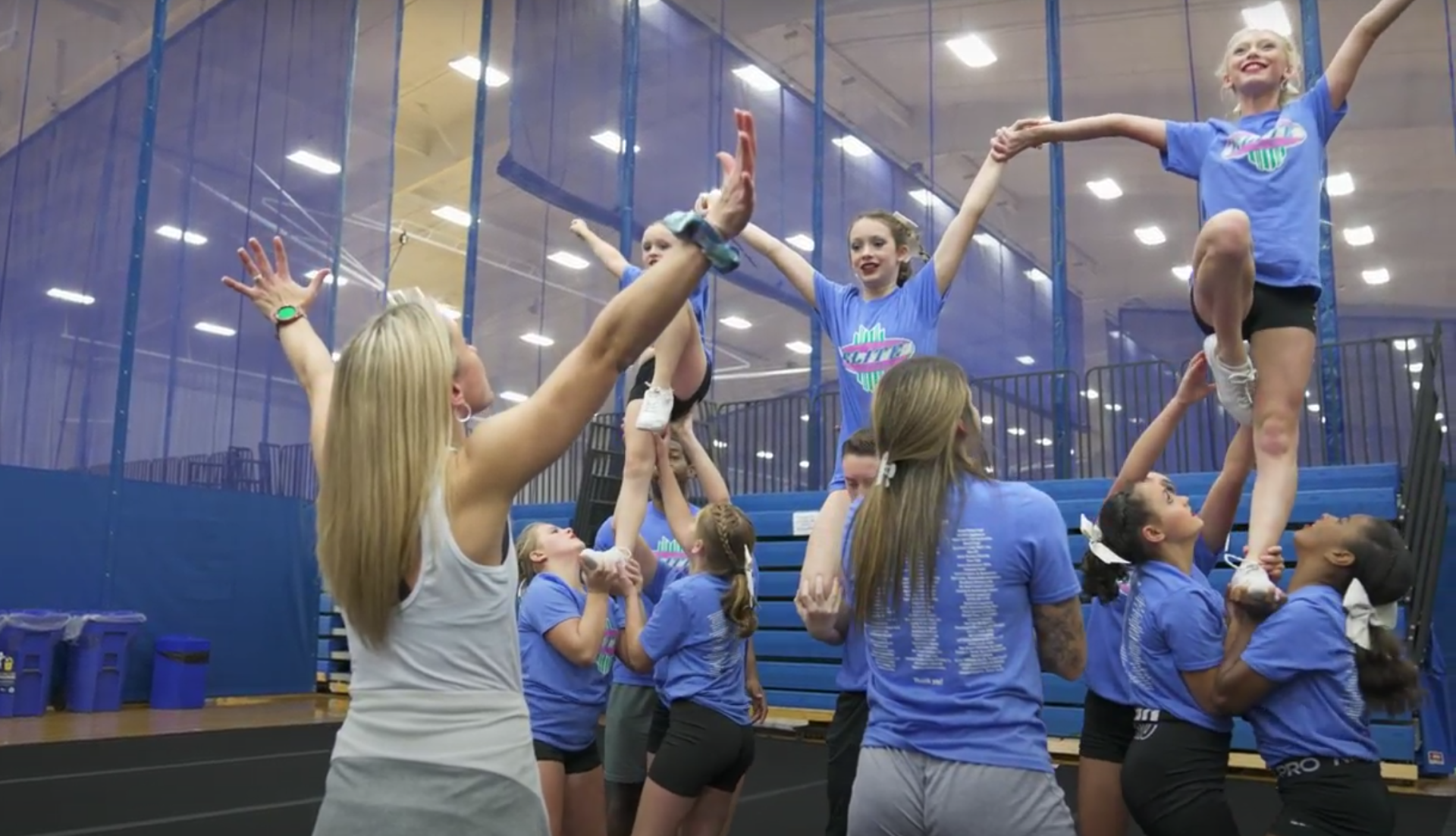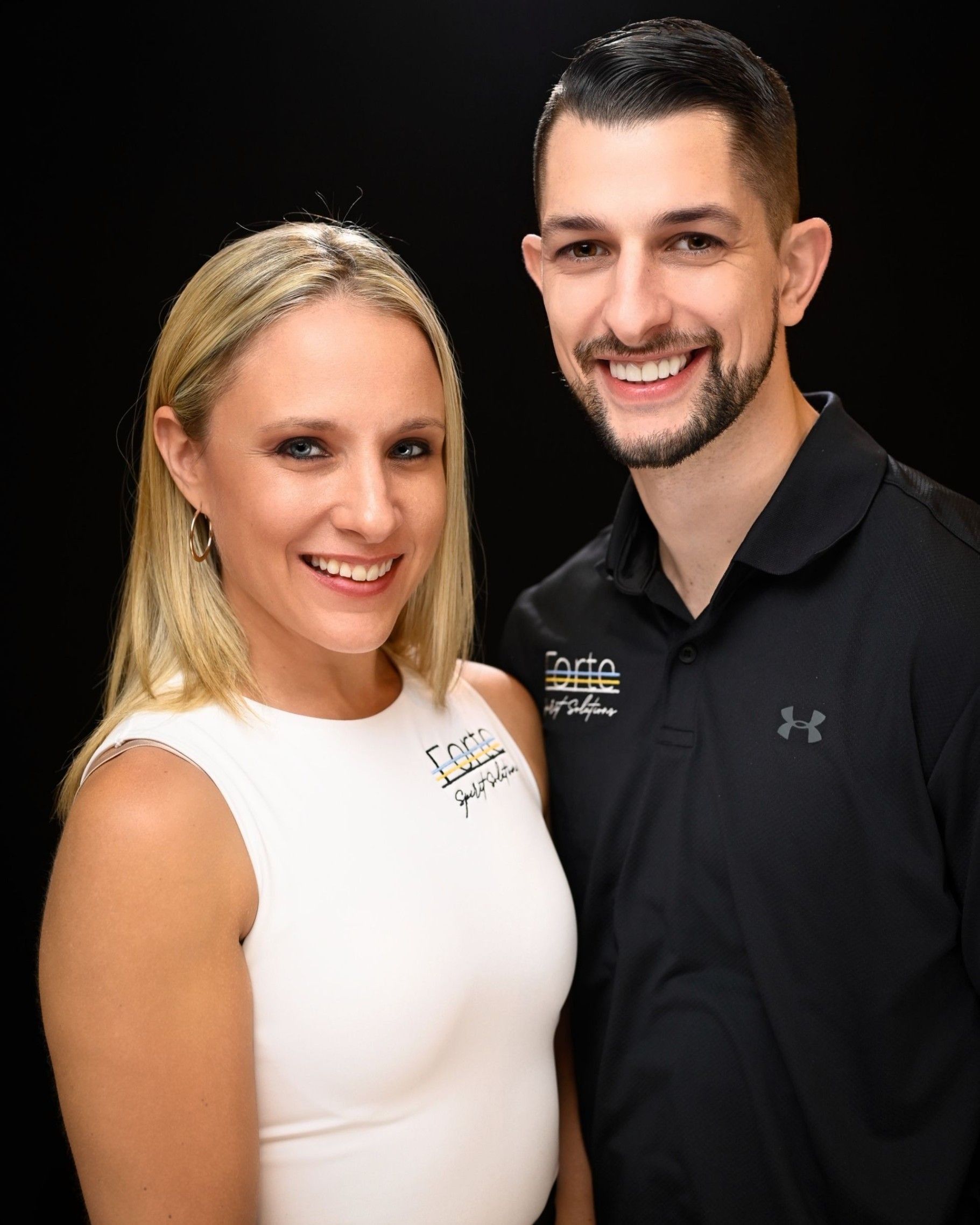 OUR STORY
During the Pandemic in 2020, Jess and Adam were sitting around a campfire in their backyard talking about the state of the industry and of their lives. They were talking about the gamut of skillset and passion they had in regards to the Sport of Cheerleading. Jess freelanced choreography to a handful of gyms and many areas high schools. Adam did the same with music. They had run multiple staff training weekends for rec and all star staff, people who knew their expertise brought them in for tumbling and stunting camps. They had a lightbulb moment of, "why don't we systemize and consolidate all of these random services we offer and create a business that could really support gyms in such a multi-faceted way?" And so Forte Spirit was born....
Forte means strength in many European languages and is derived from the Latin root "Fortis," meaning the same. At Forte Spirit we want you to feel strong and confident in what you are teaching, in what you are putting out on the floor, and in the day to day systemization of your training. We know running an All-Star gym is hard work (we've done it ourselves for 17 years!) And so we want to take some weight off of gym owners' shoulders when it comes to the training piece. Every gym's needs are different. Please reach out to us and we can help customize a plan just for you. Whether that's virtual training, in person services, or a hybrid of both, we are committed to solving your questions or problems. Let FORTE be your SOLUTION!
Jess is the co-owner of Forte Spirit Solutions. She has also owned and operated a gym in Albany, NY by the name of Intensity Athletics for 17 years. She has choreographed hundreds of routines in her 19 years at the craft. Her routines have won multiple Championships at NCA, Cheersport, and The Summit. She also prides herself in her attention to detail and ability to diagnose a problem when it comes to tumbling. Teaching tumbling coaches how to train and spot is a huge passion of hers as well.
Adam Forte
Co-Owner, Coaches Trainer, Curriculum Development, Stunt & Tumbling Clinician, & Music Producer
Adam is the co-owner of Forte Spirit Solutions. He is also the Co-owner of Intensity Athletics in Albany, NY. He is the All-star and Tumbling director for Cheer Intensity which is under the Intensity Athletics brand. Adam had a gymnastics background prior to his 18 years in the cheer industry. He has coached multiple teams to victories at the Summit, and NCA Nationals. He has worked with and learned from the best instructors in the industry. Motivating and leading athletes as well as coaches and gym owners in the techniques of stunting and tumbling is a passion he has held for many years. He is a specialist in positioning, progressions, practice structures, and athlete optimization.
Caitlin Trietley
Stunt & Tumbling Clinician
Caitlin has 21 years of cheerleading & coaching experience. She coaches teams from level 1 all the way to worlds teams. She started the cheer-abilities program at Elite Heat, and is the half year program director. Caitlin's strength is her ability to effectively diagnose and treat an inconsistency in tumbling or stunting, which is what makes her a great clinician! She also communicates with an extreme amount of enthusiasm and SPIRIT!
Brittany Lucchesi
Tumbling Clinician & Choreographer
Brittany has trained and competed USAG up to level 9. She is a 3-time UCA College National Champion and was a part of UCA Staff for 8 years. She coached high school, college, and All-star cheerleading for 16 years. She currently coaches at Long Island Cheer. Her specialty is organization and communication with athletes. She always comes prepared and communicates her ideas effectively to any age group!
Tom Balent
Tumbling & Stunt Clinician
Tom has 28 years of experience in the industry. He is the Owner of Perfecta Flip and a Tumbling Coach at The University of Maryland and Maryland Twisters. He is also a former Baltimore Ravens Cheerleader. Tom's specialty is getting coaches and athletes to understand the mechanics of tumbling so that they can effectively utilize this understanding in their training!
Michelle Hether
Choreographer
Michelle Hether is from Youngstown, OH, and is a head coach and choreographer for CheerTime Athletics, home of the Dream Team Allstars for 20 years. Michelle has choreographed and coached many High School Nationals, Summit and The Allstar Worlds teams. Michelle is admired in the cheer industry for her creative choreography and her ability to let the athletes personalities shine through. She strives to work with each athlete individually and identify their strengths and weaknesses in order to help each member of the team perform to the best of their ability.She prides herself in putting her heart into the routines she creates and wants the athletes to genuinely love them!
Heather
Choreographe
r
Heather has over 18 years of experience working in the industry. She has owned and operated 3 all star gyms, most recently NY Icons in Rochester, NY which she started in 2015. Her choreography has won multiple National Championships. Her specialties are dances and intricate, perfectly seamless transitions! If you want sass, she's your girl!
Sheryl Kantner
Administration
Sheryl Kantner
Rec & HS Training & Choreography
Kennedy has been in various roles involving cheerleading. Starting as an athlete in the Pop Warner, High School, All-Star and Collegiate level, Kennedy then moved to a professional role with NCA as a Events and Operations Director in Dallas, TX after earning her Sports/Event Management degree from Johnson & Wales University. After moving back home to Albany, Kennedy joined her childhood all-star program, Cheer Intensity, as a team coach, tumbling instructor, and eventually her favorite role as Events/Social Media Director. During her time at Intensity, Kennedy developed a love for the lower levels of competitive cheer and focused on proper stunting technique and athlete development. Kennedy is entering her 5th year as the JV Head Cheerleading Coach for Shaker High School. Her favorite part is coaching alongside her dad, The JV Football Coach.
Orla Waddell
Social Media and Marketing Director
Orla has been active in the cheerleading community since starting all-star cheerleading in 2007. When she moved to the US she began cheerleading in Albany, NY and in 2018 got a position running social media at Adam and Jess' gym, Cheer Intensity. Fast forward to 2020, she came on as a coach and began running some behind the scenes operations like pro shop and marketing. She has recently moved to Denver, CO after accepting a full time position at Rock Cheer Company and is so excited to begin that new journey in tandem with her new journey as Social Media and Marketing Director at Forte Spirit Solutions.
STAFF TRAINING
Let us customize your in person Staff Training! Choose from a comprehensive list of modules to create the "just right" learning experience for your staff!
Request a Quote
if you are interested in starting the planning process today!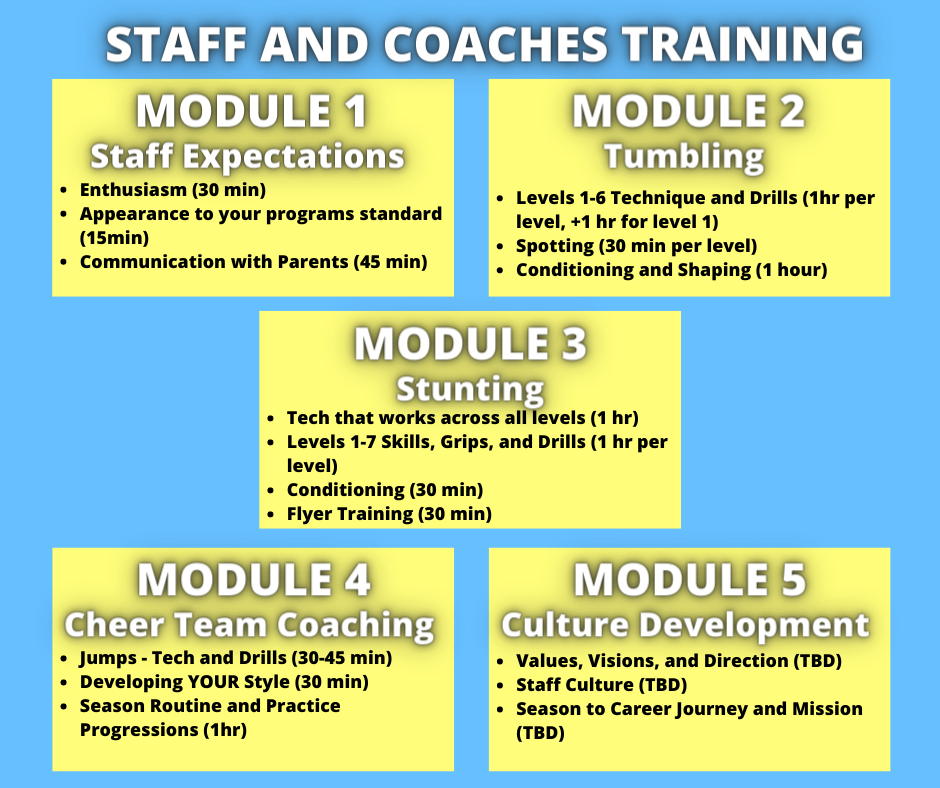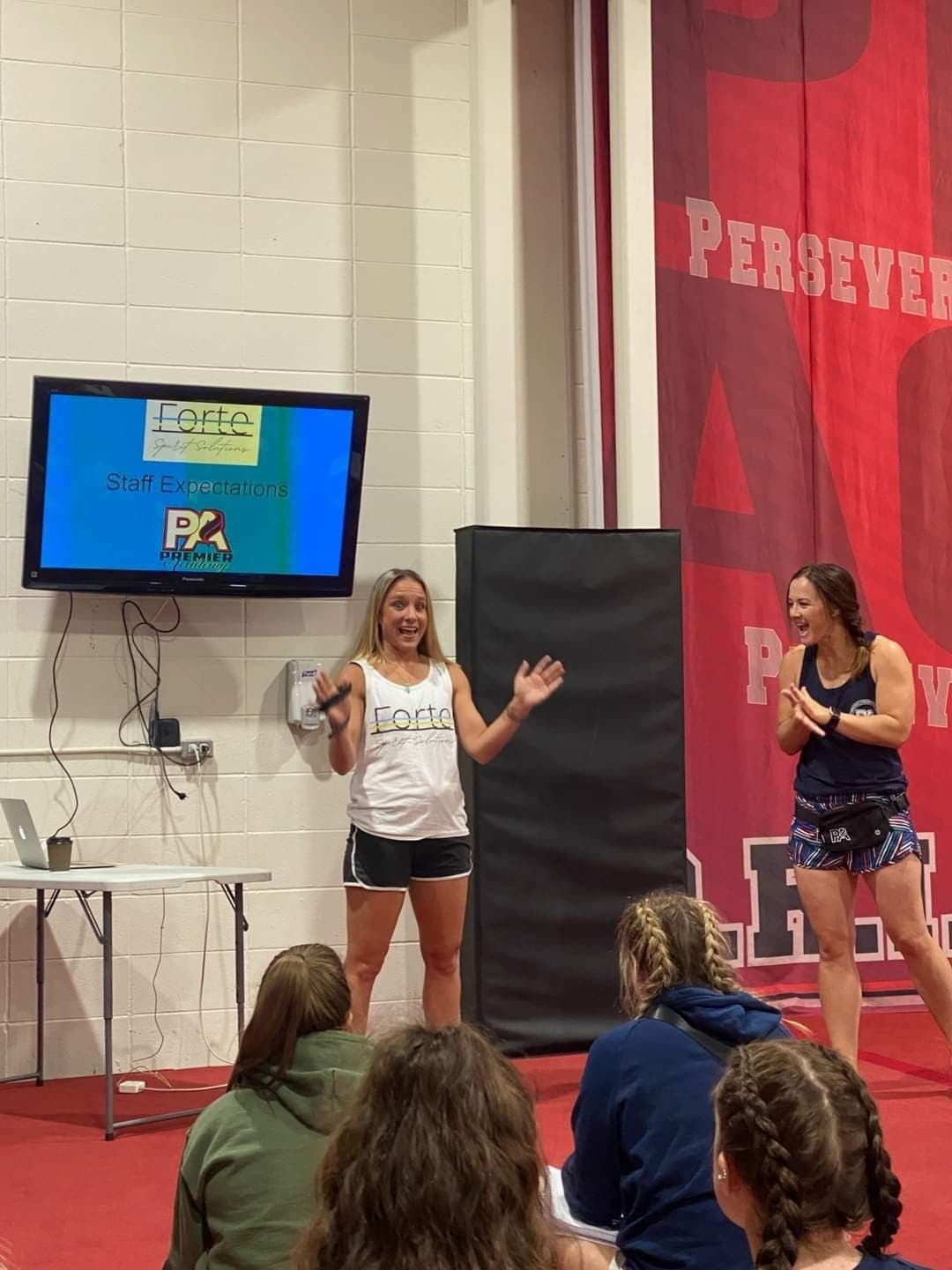 Hey There!
Welcome to Skills School! Click Here to Enroll for free to our set-up course!